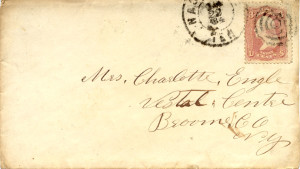 This collection includes 159 letters, covering the period October 4, 1862 to June 3, 1865, from Charles Engle to his wife Charlotte Bronk Engle. The letters were saved by Charlotte and have been passed down for four generations in the family. They were transcribed by a 2nd great granddaughter.
Charles Engle enlisted in the 137th New York Volunteer Infantry, Company B on August 13, 1862 at Vestal, New York. He was discharged on June 9, 1865. He enlisted as a private, was promoted to corporal December 15, 1863, and to sergeant in April of 1865. The 137th fought with distinction at Chancellorsville, Gettysburg, Wauhatchie, Lookout Mountain, Resaca, the siege of Atlanta, and other battles. Charlotte's brothers, Erastus Bronk and William J. Bronk, also enlisted in the 137th. Both were discharged for disability in the Spring of 1863.

Charles wrote at least weekly to Charlotte. The letters indicate that he wrote to his brother Jacob, who had enlisted in the 109th New York Infantry, and to other family members. He also wrote letters for other soldiers in his company. The letters refer to many soldiers of the 137th, soldiers of other New York regiments, Engle and Bronk family members, and friends and neighbors at home in Vestal, New York. An alphabetical index of those mentioned is available.
Charles was born in Albany County, New York on March 18, 1838. His father was David Engle (1799-1874) and his mother was Catherine Swart (1802 -1891). Charlotte Bronk was born on June 4, 1836 in Albany County. Her father was Joel Bronk (1812-1889) and her mother was Christina Warner (1815-1900).
The Engle and Bronk families resided in the Town of Knox. Both Charles and Charlotte were christened in the Saint Paul Lutheran Evangelical Church of Berne, Albany County. Sometime between 1850 and 1855 both families moved to Broome County and resided in the Towns of Vestal and Maine.
Charles and Charlotte were married on August 27, 1859. They had five children: Mary Ester, born November 14, 1860, John D., born April 27, 1863, Grace Evelyn, born April 29, 1869, Alberto J., born October 5, 1874, and Elmer Guy, born November 24, 1877.
Charles Engle survived the war and returned to Broome County where he was a farmer. He died December 24, 1918 in Port Crane, Broome County, New York. He and Charlotte and buried in the Port Crane Cemetery.